Pork Belly Char Siew
with reference from Food Canon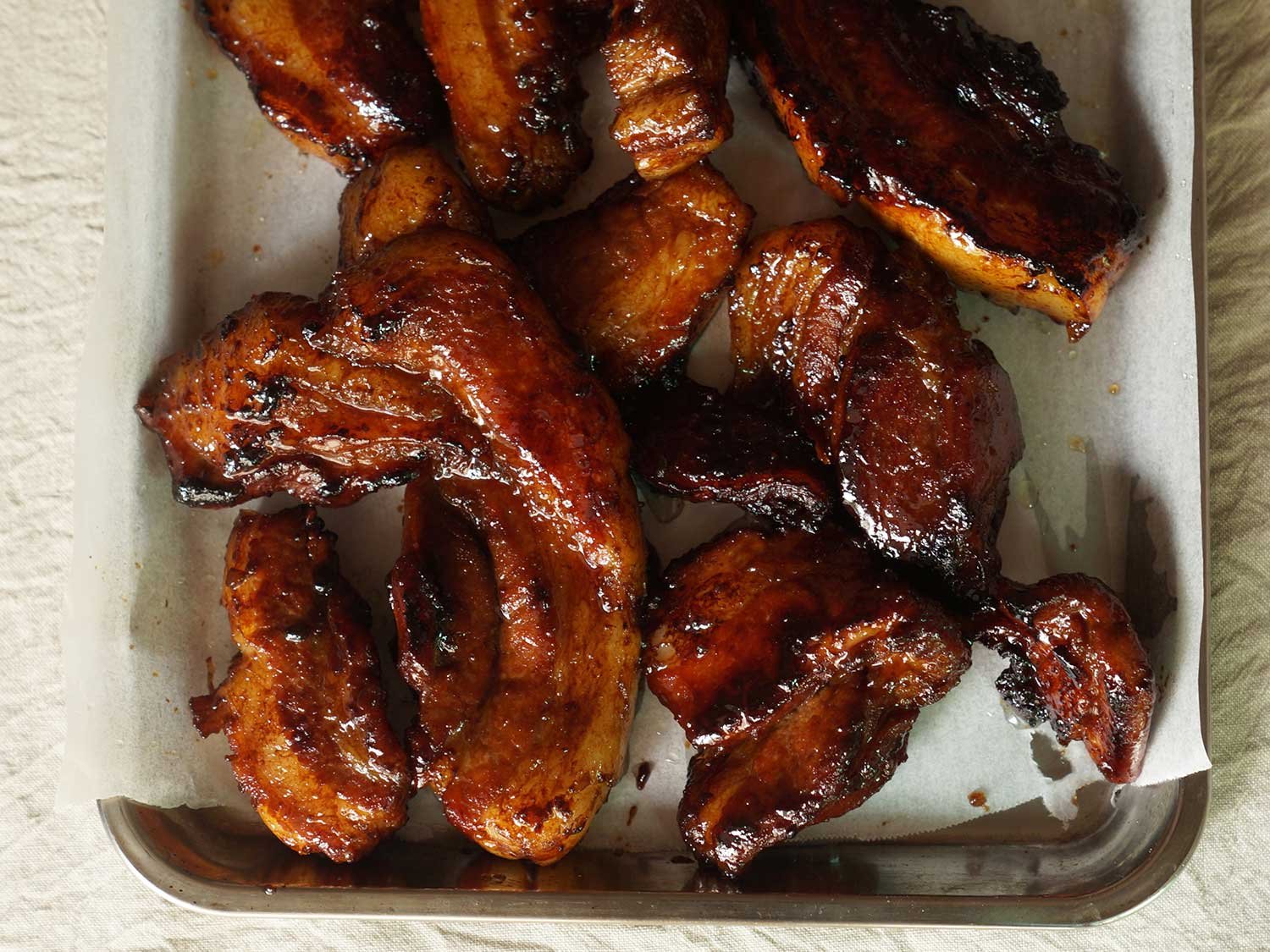 Who doesn't love Chaw Siew? Yes we all love Chaw Siew, especially pork belly Chaw Siew. It goes well with any noodle range from our e-shop. This recipe is relatively easy to attempt, and the taste is excellent.
---
---
Ingredients
1 kg pork belly in strips, skin removed
Pork Marinate:
(marinate for at least 1 hour, if not overnight)
1 tsp Salt
1 tsp Sesame Oil
1 tsp Dark Soy Sauce
1 tsp White Pepper
2 tsp Honey
2 tbsp Sugar
2 tbsp Hoisin Sauce
1 tbsp Chinese Wine or liquor
1 tsp 5-spice Powder
To cook marinated pork:
2 tbsp Cooking Oil
1 soup bowl of water
Method
In a bowl, combine all the marinate ingredients. Add in pork belly stripes, coat evenly with the marinate and set aside for at least 1 hour. If not overnight.
Bring the marinated pork belly to room temperature.
Add oil to heated wok, and place pork belly into the wok.
After 5 minutes, add water into the wok. Let simmer on low heat for 40 minutes, or till the pork is cooked and tender.
Remove most of the sauce from wok, set aside. Caramelise the meat in the same wok on medium heat. Turn the meat around when necessary, within 5-10 minutes, the meat should char nicely.
After the Char Siew is done, glaze with some additional honey and the reserved sauce. Slice and serve with your favourite Handpicked noodles. Keep remaining sauce for dipping or tossing of noodles.
Best paired with Wanton Noodles, Emerald Noodles and Kolo Noodles