Gyoza
with reference from http://chubbyhubby.net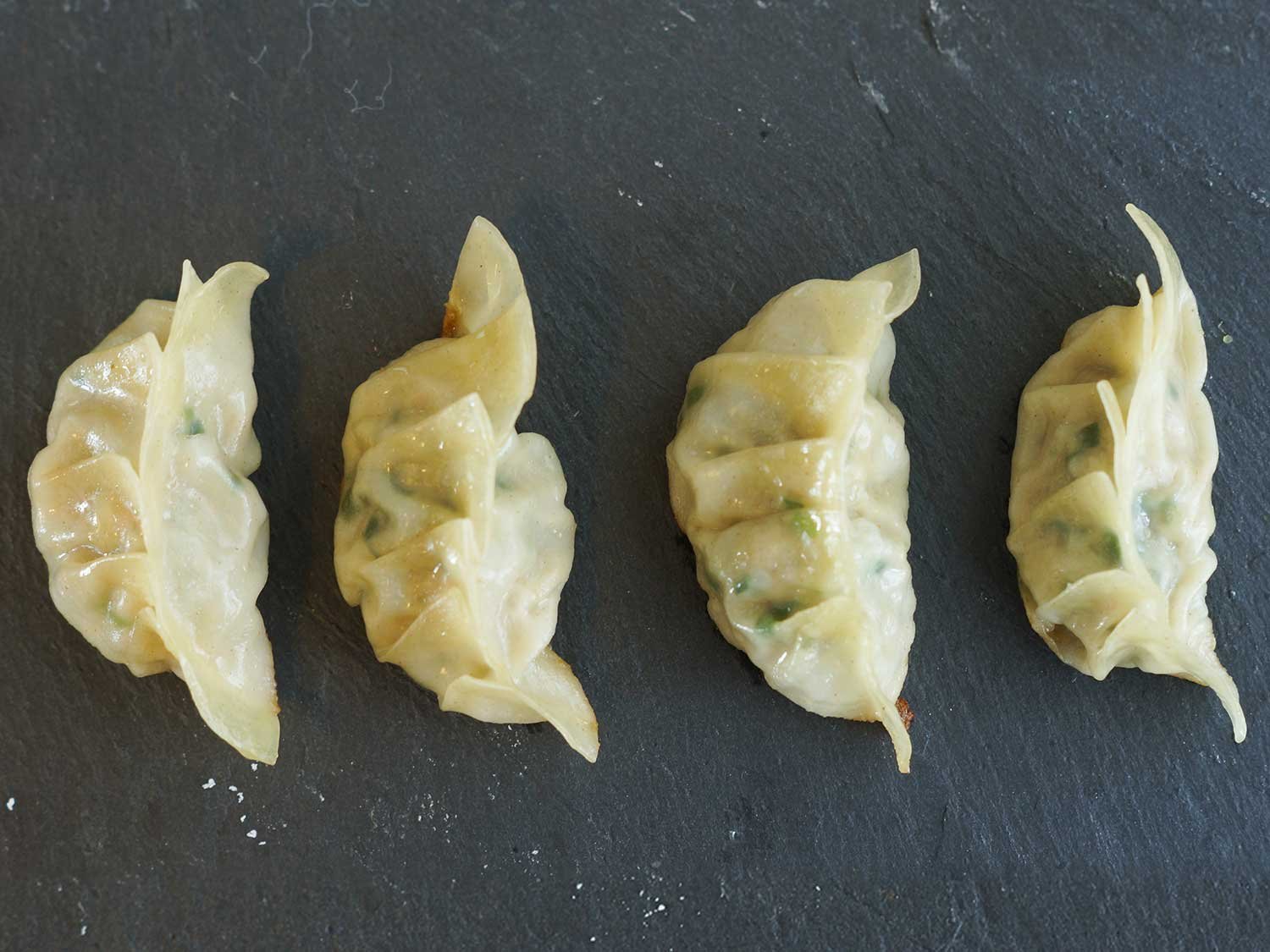 The making of gyoza requires a bit more time. So, we would advise you to make enough to last you for a while. You just need to freeze them, whenever you feel like eating it, boil the gyoza as a healthier option or pan fry them for a tastier servings.
---
---
Ingredients
300g Round cabbage, finely chopped
1 tsp Salt
500g Minced Pork
50g Chinese Chives, finely chopped (optional)
50g Spring Onions/Scallions, finely chopped
1 tbsp Young Ginger, minced
1 tbsp Garlic, minced
2½ tsp Light Soy Sauce
1 tbsp Cooking Sake
2 tbsp Sesame Oil
1 tbsp Chilli Bean Paste (Dou Ban Jiang)
Serving dip:
Young Ginger, julienned
Rice Vinegar
Light Soy Sauce
Chilli Oil (optional)
Method
Toss the chopped cabbage in a bowl with the salt. Set aside for 30 minutes then squeeze the cabbage to extract water. Discard the water.
Combine the cabbage, minced pork, chives (if using), spring onions, ginger, garlic, light soy sauce, sake, sesame oil and chilli bean paste in a large bowl. Mix well and refrigerate for 30 minutes.
Using your Handpicked gyoza wrappers, fill and wrap into desired shape. (link to gyoza wrapping video)
To cook the gyoza, preheat a shallow pan filled with just enough oil to thinly coat its base. Use a pan that has a lid. A non-stick surface also makes the whole process much easier.
Place the gyoza in the pan (frozen ones go in frozen). Be careful not to overcrowd the pan or they will stick together. Fry them until they develop a crisp, golden brown base.
Drizzle some water into the pan and cover it immediately. (Add just enough water to cover the base of the pan, and be sure to drizzle some onto the gyoza themselves so that the crimped edges don't get crispy.)
Let the dumplings steam until their skins become somewhat translucent. Uncover the pan and continue to cook until the water has evaporated.
Serve immediately with julienned ginger, rice vinegar, soy sauce and chilli bean paste (if using) combined to taste.
Note: 
To prevent your gyozas from sticking together, sprinkle a thin layer of flour onto a baking tray or line a baking tray with baking paper. Place the gyozas individually onto the tray, taking care not to overlap.
It's always lovely to keep a batch of goyzas in the freezer for a quick, fuss-free meal. To store, place the tray of gyozas into the freezer until the gyozas are frozen. Next, transfer the frozen gyozas into a ziplock bag and store in the freezer until it's time to eat!
When cooking frozen gyoza, there's no need to bring the gyozas to room temperature before cooking. Simply add to the pan frozen as cook as per the instructions above.